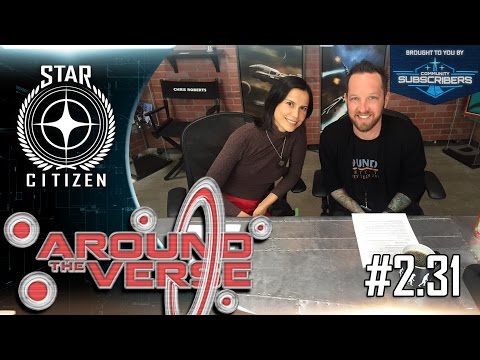 Wie jeden Donnerstag hat CIG heute Around the Verse für uns. Da Ben immer noch außer Haus ist, hat dieses Mal Forrest Stephan die Moderation an Sandis Seite übernommen. Diese Woche sollte Ben dann eigentlich wieder mit von der Partie sein. Inhaltlich gibt es nicht so viel zu sagen. Einziges Highlight ist das Fast Forward zum Piping-System. Das Ganze habe ich für Euch wie immer zusammengefasst.
Hier die Stichpunkte:
02:27 – Intro:
2.4 auf dem PTU:

Starfarer flugbereit
Reliant im Hangar
Shopping (Kleidung)

5 USD für alle, die am Orion-Wettbewerb teilgenommen haben. Gewinner werden nächste Woche bekanntgegeben.
05:21 – News from Around the Verse:
LA: technische Implementierung der Beleuchtung; mehr Arbeit an der Caterpillar
TX: 2.4 auf dem PTU; Analytics für das Spiel; Hilfe für Animationen für SQ42; Shops in 2.4
UK: SQ42 Charakter Artist zu Gast (arbeitet an den Vanduul); Er hat bei vielen bekannten Filmen der letzten Jahre mitgearbeitet (Skyfall, Jungel Book)
DE: Animationen für FPS; Prozedurale Generierung bald in einem Update zu sehen
14:40 –

ATV

Behind The Sceens: Voice Attack &

HCS

Voice Packs
:
Jared spricht mit den Entwicklern von Voice Attack und den Sprachpaketen für verschiedene Stars.
24:14 –

ATV

Rewind: Early Spaceport Concept
25:54 – Wonderful World of Star Citizen:

INN
:
Jared spricht mit den Machern von INN über ihre Arbeit.
35:18 –

MVP

w/ Tyler Witkin
:
https://robertsspaceindustries.com/community/citizen-spotlight/4380-Cel-Shaded-Ships
36:41 –

ATV

Fast Forward: Piping System
Quelle:
Comm-Link